Quality Healthcare & Technology Solutions
Advize is a leading provider of technology enabled solutions serving healthcare audit, knowledge and compliance requirements.
Auditor-grade Medical Record Review
We don't use Medical Coders to do documentation review, we use best in class Medical Record Auditors whose profession is to review clinical documentation for FWA.
Answers to Your Questions
What exactly do you do?
Healthcare costs a lot.  We don't like that.  We work our hardest to try to make healthcare more affordable.  We provide all consulting services around reducing the cost of healthcare while increasing the quality.
Foreign or Domestic?
100% USA owned and operated, including all resources.
Do your resources work in my state?
Yes, we have a large number of staff who are work from home and travel to client sites for projects.  We are flexible in our execution and delivery.
Where is your headquarters?
You mean our secret headquarters? Advize is headquartered in sunny Orlando, Florida.
Do you carry cyber insurance?
Oh yeah, a lot lot.
Which side are you on payer or provider?
Both.  We sit on the fence with CMS.
What are your hours?
We are consultants who live in all different time-zones so the answer is 24 by 7.
Latest Posts
Stay up to date with some of the latest Healthcare news.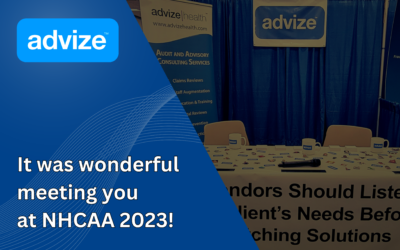 Join Ashlee Heath, for a journey through NHCAA ATC's highlights—a celebration of hard work and relentless pursuit in the fight against healthcare fraud.
Let's Work Together!
Hi! Want to actually take a vacation this year?