On February 27, President Trump tweeted and posted an image that unintentionally brought to light a very real, very problematic aspect of the healthcare industry. The photo depicts 12 men, plus President Trump in the oval office. These men are what Trump describes as "CEOs of leading U.S. health insurance companies" – and while this may be true, this assembly of healthcare leaders is bereft of women. The lack of diversity is startling, discouraging, enraging…but most of all, inspiring. Trump's tweet is a visual representation of the many challenges women and other minorities face in leadership positions: lack of recognition, lack of opportunity, and lack of support.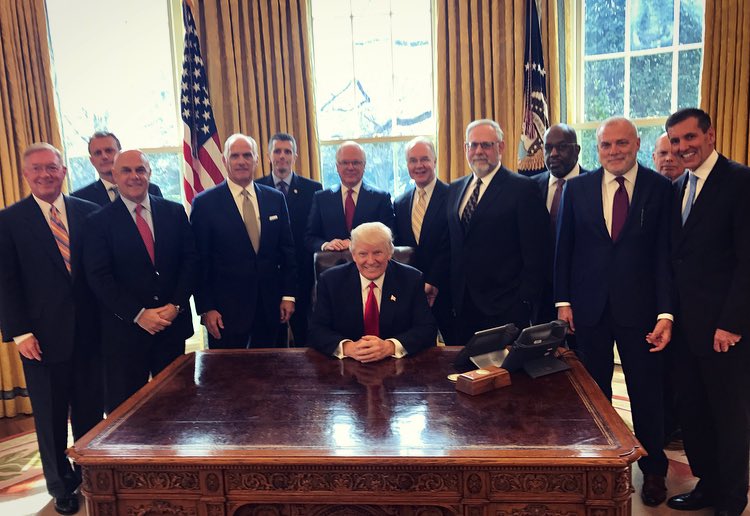 Our Managing Director, Jeanmarie Loria, saw this tweet and decided that it was time to feature some inspiring female leaders.
Women hold over 52% of professional jobs in the U.S. workforce, however; women only represent 14.6% of executive officers. These disproportionate numbers are startling, but what's even more troubling is the statistic that suggests only 8.1% of women in the workforce are top earners in their respective fields.
Advize recently attending a Disruptive Women's Panel at HIMSS17, with two resounding takeaways:
Women are often ordered to alter their personalities in a professional setting, especially by their male counterparts. One woman detailed her experiences, mentioning that her male supervisor told her, "Your personality is like a ray of sunshine. Sometimes it's bright, and sometimes it can burn after a while,". Can you conceive of anyone talking to a male employee in such a manner? It's highly unlikely.
Women not only need to assert themselves, but they need to encourage other women to assert themselves as well. There is often a competitive mindset among women in the professional field, a product of the seemingly diminishing number of leadership positions for women. When women help other women rise above, there will be more room for women in leadership.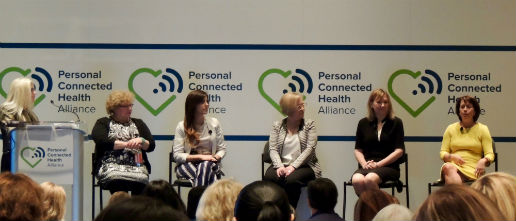 As IBM's Nicole Gardner (@NicoleWGardner) said, "We as women need to declare empowerment and take it, instead of waiting for someone to give it to us". This advice made us feel something, yes, we recognize our feelings. Perhaps it is because we are a woman owned company with 83% of women on our team – and so we've created the list you are about to review. This list is comprised of women in healthcare who have inspired Advize to strive for more. By sharing this list we hope to empower, encourage, and recognize these powerful women in leadership.
It's the least we could do. We present to you, in no particular order, some of our favorite women in healthcare.
Nicole Gardner, Vice President of PS Eminence Academy, Senior Advisor for Federal Healthcare,
IBM Industry Academy Member
Every once in a while, you may be lucky enough to have a meeting that changes your life. This happened to our Managing Director, Jeanmarie, last year after she met with Ms. Gardner one Friday afternoon in Tyson's Corner. Ms. Gardner shared such solid concepts around how an executive could lead a team while taking care of herself. Jeanmarie and Ms. Gardner talked about leadership, life, healthcare, and how to balance it all. When Jeanmarie left that meeting she made a commitment to herself and her team that she would practice more mindfulness both at work and during her own time. Ms. Gardner, quoted above, is passionate about leadership, mindfulness, technology, innovation and healthcare. She shares her tremendous experience with start-ups, nonprofits, small businesses and so on. She makes time to not only lead a group of account leaders and industry experts in the Federal Healthcare marketplace, including the U.S. Department of Health and Human Services, CMS, U.S. Social Security Administration, Veterans Administration and the Department of Military Health; she also creates space to honor the most important aspects of life, family and our community.
Maria Perrin, Principal at Gide LLC
Ms. Perrin is who our Managing Director wants to be. Both Jeanmarie and Ms. Perrin are from the same part of New York, yet Jeanmarie often describes Ms. Perrin as the classiest Long Island business friend she has ever known. Ms. Perrin has taught Advize how to build programs and help our clients while building our brand and improving our bottom line. Ms. Perrin is a marketing and business development leader with a history of achieving high revenue and margin growth, brand transformations and strategic innovations for both publicly traded and privately held companies. She is a hands-on marketer and sales professional who has executed numerous successful product launches and has built high performing teams.
Linda Shoenfelt, Vice President of Medicare Business Operations Transformation at Aetna
When Advize Health underwent our business transformation 4.5 years ago, Ms.Shoenfelt spent the day telling me [Jeanmarie] about working with our former structure, leadership and competitors. She guided me with some industry best practices and took the time to understand exactly where we were before making some recommendations. Her stories of leading large healthcare projects and teams showed me that a female leader could be both kind and stern. I've often heard that you are either too easy or a witch in business, Ms. Shoenfelt was the first example, Advize looked up to, in healthcare to see that this wasn't true at all. She truly is a Healthcare Executive with an unbelievable track record of improving profitability and identifying growth opportunities through people, process, and technology. She is what every operations person wants to be and knows how to move teams in the right direction to drive success in repairing compliance and service issues, clearly identifying root causes, and defining innovative cost-effective solutions. Her strong focus on the customer experience and service excellence, quality, the establishment of metrics, service standards driving toward accountability, and continuous improvement.

Michele Carpenter, Senior Vice President Government Services at HMS
For the last three years, Advize has seen through Michele's leadership that a senior executive can care about her team and can firmly lead them to success. As a Senior Executive responsible for HMS Government Services organization, including the State and Federal Markets, Ms. Carpenter has a number of intense responsibilities, yet she makes time for her entire team and always cares about their individual growth. Advize was inspired with the time she took to coach a lower level staff member even after his exit. She has always made time to help people become better individuals both at home and on the job. Her team respects her and continue to work hard for her each day. She is a true leader as defined by Tom Peters, "Leaders don't create followers, they create more leaders."
Tajana Misic, Privacy and Security Consultant – Privacy Engineering
Tatjana was one of our first friends in healthcare. She was kind enough to help us navigate through federal contracting and the network in and around CMS. She believes in entrepreneurs and especially women in business. She offered to have our Managing Director to stay in her own home during Jeanmarie's frequent trips to DC. Although she opened her home and helped us minimize the expense of travel, that wasn't the best part…she opened her home and welcomed us in ways that we had never previously seen making us fresh delicious homemade gluten-free baklava and going to such great lengths to welcome us and make us feel very at home. She is a leading privacy and security consultant, currently working on an enterprise governance, risk, and compliance system implementation for one of the largest health care payer in the country. She also designs privacy and security requirements for mobile health, and she is involved in Health IT and other privacy and security related engagements the US and internationally. She is one of the kindest/smartest people we have ever been lucky enough to know and work with.
Michele d'Arcambal, Partner at d'Arcambal Ousley & Cuyler Burk,LLP
Ms. d'Arcambal has more than twenty-five years of experience defending companies in all aspects of commercial litigation, including class actions, meditations, arbitration, appeals and trial. Advize originally met Ms. d'Arcambal and was greatly inspired by her lack of fear to speak the truth and her proven track record successfully running a tremendous firm that has a strong commitment to the goals of diversity. As a woman-owned firm, DO&CB is particularly sensitive to the challenges and rewards of diversity. DO&CB's attorneys and employees conduct business throughout the United States, and DO&CB values highly the perspectives and varied experiences that are found only in a diverse setting. "The promotion and retention of diverse members and staff is essential to the success of our Firm as well as our professional pursuits."

Do you know another inspiring woman from healthcare? Let us know if you know a woman-worthy on mentioning, and give her a shout out on social media (@advizehealth)! We've started our list at 6, but there are too many women to mention here. We want 12, we want 1,200, we want 12,000 more women to feature!